'Price Engineering' Steers You To Low Prices
Spoofee Helps You Find Best (Mostly Tech) Deals
POSTED: 11:46 a.m. EST February 19, 2003
Who doesn't love a great deal? A lot of Net-savvy consumers do, and the scores of coupon and deal-grabbing sites on the Web prove that there's a big demand for it.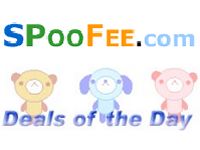 But there is one site that combines rebates, sales offers, coupons and price matching to give you the best price out there -- sometimes even for free.
Currently, you can get a paper shredder, 50 CD-Rs, surge protector and a network card -- all for under $8 (and that includes shipping). How do you get those deals? It's a combination of a lot of deals.
Spoofee.com
calls it "price engineering." I call it smart, albeit a bit tricky. For example, to get a deal such as a Minolta Laser Printer for $60 (which includes shipping), it takes four steps. The site tells you to go to the Staples site, order the printer for $199.99, order a thumbtack for 25 cents so you can bring the order to more than $200, then enter the coupon code they provide which gives you $40 off any purchase more than $200. If you add the $100 Staples rebate, you get the monitor for $60.24. And since Staples ships for free, that price includes shipping! Here's another "tricky" example. If you want an HP Photosmart Digital Camera for $48, it may take a bit of driving. Spoofee suggests you print out the Office Depot page from their catalog, which advertises the camera for $97. Then go to Staples and buy the camera, which they sell for $139. Since Staples price-matches, show them the Office Depot page and get $42 off. There's an additional $40 rebate offered by Staples so you end up saving around $82. The only bad thing about the site is that the deals tend to be tech heavy and they do end quickly. So if you're in the market for some tech gadget and you are just waiting around for the right price, it wouldn't be a bad idea to bookmark this site.