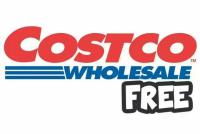 Costco Wholesale allows non-members to shop [s]for free[/s] if they are using the Costco Cash Card during checkout.

Ask your friend with a Costco membership to buy several $10 gift cards or buy several $25 gift cards online

When non-members shop, just show the Costco Gift Card and pay remaining balance with cash

[s]- There is NO extra surcharge for non-members[/s]

- Same discounts apply for non-members

- Same lenient return policy applies, you just need to keep your receipt

- Warehouse Locator

Update: You can use the card for liquor and pharmacy, as these do not require membership. Otherwise you will pay a surcharge or you have to purchase the membership to save the surcharge fee.